This year the Chinese New Year will be celebrated on Sunday February 10, 2013. Although celebrations of this festive day vary, the underlying message is one of peace and happiness. The following are some suggestions from the Chinese traditions, feel free to incorporate your own. I just love the intention of focusing on the new.
Clean Sweep

A huge clean-up gets underway days before the New Year, when Chinese houses are cleaned from top to bottom to sweep away any traces of bad luck.
Decorate
Chinese people decorate the house with fresh, bright flowers for Chinese New Year — especially red, bright pink and orange. Live blooming plants symbolize rebirth and new growth. Flowers are believed to be symbolic of wealth and high positions in one's career. Oranges and tangerines are symbols of abundant happiness. The homes are also decorated with couplets to wish family and friends prosperity, health and happiness.
Bringing in the New Year and Expelling the Old
Shooting off firecrackers on New Year's Eve is the Chinese way of sending out the old year and welcoming in the New Year. On the stroke of midnight on New Year's Eve, every door in the house, and even windows, have to be open to allow the old year to go out.
Dragons
Use dragons to chase away unhelpful spirits.
Prepare a Feast (or order in)
Enjoy a Chinese feast on New Year's Eve to celebrate your ancestors. New Year's Eve and New Year's Day are celebrated as a family affair, a time of reunion and thanksgiving. Departed relatives are remembered with great respect because they were responsible for laying the foundations for the fortune and glory of the family.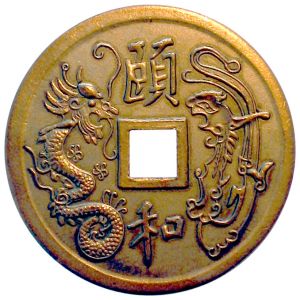 Red Envelope
Children are given money in red envelopes.
Power of Words and Intention
Everyone should refrain from using foul language and bad or unlucky words. References to the past year are also avoided as everything should be turned toward the New Year and a new beginning.
Good Luck and Happy New Year